Find the most comprehensive list of NGO in Nawada, situated in Bihar. Nawada has a 2216653 population and an area 2492 km², There are more than 65+ registered NGO's in Nawada, Bihar, India. All the NGO's here in this list are Registered in Bihar. If you find any false information in this list, please report us with NGO details. Also, If you're a NGO worker, than you can list your NGO in Nawada list by filling the form by at Ngo4You.com.
List of NGO in Nawada, Bihar
Krishi Vigyan Kendra
Working for– Krishi Vigyan Kendra organization dedicated working for Agriculture research, Agriculture technology, provide Course in Agriculture, and provide Quality Seed and Planting materials.

Detail:
Founded– 2001
Phone number– +91 9431760188 and +91 9771407483
Address– Gram Nirman Mandal, Sarvodaya Ashram, Sokhodeora, Nawada 805106, Bihar, India
Email– nawadakvk@gmail.com
Website– https://nawada.kvk4.in/
Nachiketa
Working for– Nachiketa organization dedicated working for Educate & Empower deprived section and provide Computer Education, Training course, Fashion designing course, Driving skill course, Beautician, Motor mechanical training & Yoga training courses.

Detail:-
Founded– 2008
Phone number– +91 7903013821
Address– Near RMW College, New Area, Nawada 805110, Bihar, India
Email– info@nachiketaedu.in
Website– http://nachiketaedu.in/
Woman Handicapped Orphan and Poor Welfare Society
Working for– WHOPWS Organization dedicated working for Women, Handicap, Orphan and Poor community.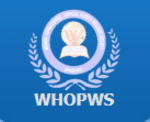 Detail:-
Founded– 2011
Address– Bhelubigha, Orro, Hisua, Nawadah, Bihar, India
Email– info@whopws.org
Website– http://whopws.org/
Shalom Mission School
Working for– Shalom mission organization dedicated working for Educates the children and Create a better world.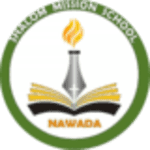 Detail:-
Founded– 2013
Phone number– +91 9262247993
Address– Shanti Nagar, Akauna Nawada, Bihar, India
Email– shalommissionschool16@gmail.com
Website– https://shalommissionschool.com/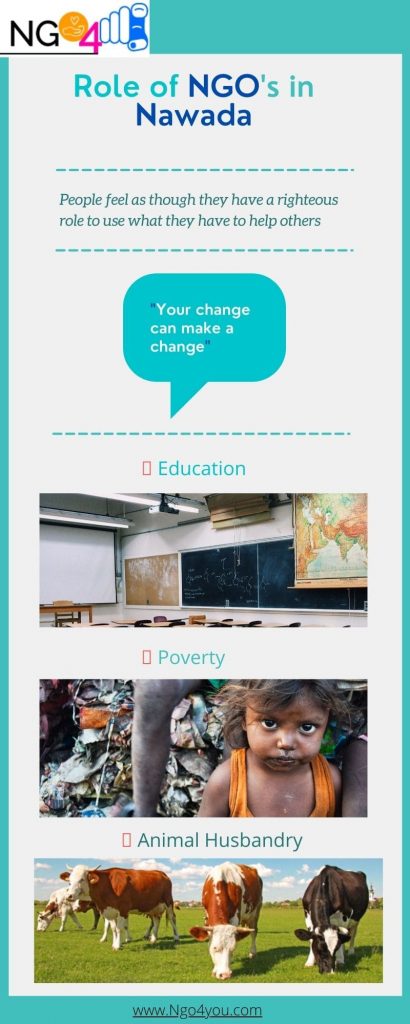 Nawada
Rajauli
Hisua
Warsaliganj
Mahila Vikash Samitee
Registration No & City: 518/ 1995-96, Nawada
Address:Purani Bus Stand, Rajauli
Cause:Agriculture, Education & Literacy, Health & Family Welfare
---
Jan Shakti Seva Samiti
Registration No & City: 917/2002-03, Nawada
Address:Sirdalla Anumandal Rajauli (Nawada)
Cause:Agriculture, Animal Husbandry, Dairying & Fisheries, Art & Culture, Biotechnology, Children
---
Akash Clinic
Registration No & City: 75, Nawada
Address:Opp. Bharat Gas Office, Satisthan Rajauli
Cause:Animal Husbandry, Dairying & Fisheries, Art & Culture, Children, Drinking Water, Education & Literacy
---
Yuva Vikas Trust
Registration No & City: 22, Nawada
Address:H.N36/B, Behind Jai Baba Balki Temple Villeknar, Post-Dhanwan P.S.- Hisua, Dist – Nawada Bihar – 805103
Cause:Children, Education & Literacy, Environment & Forests, Information & Communication Technology, Rural Development & Poverty Alleviation, Women's Development & Empowerment
---
Lok Vikas Sansathan Hisua
Registration No & City: 409/92-93, Nawada
Address:Shankar Gali, Panchu, Hasua, Dist.-Nawada (Bihar)
Cause:Agriculture, Animal Husbandry, Dairying & Fisheries, Art & Culture, Biotechnology, Children
---
Maa Vindhyaavasini Kalyan Trust
Registration No & City: 5719/2008, Nawada
Address:At-Dhanaul,Po-Dhanawa, P.S.- Hisua, Dis.- Nawada,Bihar-805103
Cause:Agriculture, Animal Husbandry, Dairying & Fisheries, Art & Culture, Children, Civic Issues
---
Smrat Ashok Kushwaha Seva Samiti
Registration No & City: 2907/2017, Nawada
Address:Hisua, Samrat Ashok Nagar
Cause:Agriculture, Education & Literacy, Environment & Forests, Health & Family Welfare
---
Jan Kalyani
Registration No & City: 192, Nawada
Address:House Of Sri Chhote Lal Singh, Behind Of Cooperative Bank, Hisua, District- Nawada
Cause:Animal Husbandry, Dairying & Fisheries, Education & Literacy
---
Anshu Foundation
Registration No & City: 297/2013-14, Nawada
Address:Vill. P.O.-Dariyapur, P.S. Block-Warsaliganj, Distt.-Nawada (Bihar) 805130
Cause:Agriculture, Animal Husbandry, Dairying & Fisheries, Art & Culture, Biotechnology, Children
---
Jan Sampark Seva Sansthan
Registration No & City: 1328, Nawada
Address:L S D P Niwas Moh-Kanhai Nagar Behind Of Bus Stand No. 3 Po Psdist- Nawada Pin-805110
---
Sadayva Samarpit
Registration No & City: 1696/2009-110, Nawada
Address:Sadayva Samarpit Chhai Road,Maal Godam Nawada,Bihar
Cause:Children, Drinking Water, Education & Literacy, Environment & Forests, Information & Communication Technology, Vocational Training
---
Deepmala Mahila Vikash Sansthan
Registration No & City: 509, Nawada
Address:Main Road Nawada Bihar 805110
Cause:Art & Culture, Children, Education & Literacy, Women's Development & Empowerment
---
Umang Vikas Kendra
Registration No & City: 164, Nawada
Address:Vill- Vendhi Post- Samarigarh Block- Roh
Cause:Legal Awareness & Aid
---
Nav Dalit Chetna Kendra
Registration No & City: 785, Nawada
Address:Gram Post-Konibar, Block-Narhat, District-Nawada (Bihar) Pin-805122
Cause:Agriculture, Animal Husbandry, Dairying & Fisheries, Art & Culture, Biotechnology, Children
---
Satkar Foundation
Registration No & City: 2233/2018, Nawada
Address:Bara-Pandeya , P.O- Maharama, P.S -Rohdist- Nawada ,State- Bihar, Pin Code- 805107
Cause:Children, Education & Literacy, Human Rights, Rural Development & Poverty Alleviation, Women's Development & Empowerment, Youth Affairs
---
Yawanika Samajik And Sanskrit Manch
Registration No & City: 014795, Nawada
Address:Rajendra Nagar Nawada
Cause:Art & Culture, Children, Education & Literacy, Labour & Employment
---
Dishayen Swayam Sevi Sanstha
Registration No & City: Rn-1150 2002-03, Nawada
Address:At-Mangar Bigha Road Nawada
Cause:Education & Literacy, Environment & Forests, Health & Family Welfare, HIV/AIDS, Human Rights, Rural Development & Poverty Alleviation
---
Punarjeevan Bihar
Registration No & City: 3562, Warisaliganj
Address:Warisaliganj, Nawada Bihar- 805130
Cause:Health & Family Welfare, Art & Culture, Children, Education & Literacy, Environment & Forests, Women's Development & Empowerment
---
Lok Chetna Vikas Kendra
Registration No & City: 331, Nawada
Address:Kunj Kuteer Gola Road Po And Ps Nawada District Nawada Pin 805110
Cause:Agriculture, Art & Culture, Children, Civic Issues, Dalit Upliftment, Differently Abled
---
Gram Vikas Bharti Madwa
Registration No & City: 301/1994-95, Nawada
Address:Village Madwa /Post.Madwa , Dist. Nawadaviapakribrawan Bihar 805124
Cause:Agriculture, Children, Civic Issues, Drinking Water, Environment & Forests, Health & Family Welfare
---
Society Development Foundation
Registration No & City: 346, Nawada
Address:Yamuna Path New Area Nawada
Cause:Agriculture, Animal Husbandry, Dairying & Fisheries, Art & Culture, Biotechnology, Children
---
Dalit Mahila Vikas Samiti
Registration No & City: 767/1999-2000, Nawada
Address:At- Postmortem Road, Nawada 805110
Cause:Health & Family Welfare, Rural Development & Poverty Alleviation, Women's Development & Empowerment
---
Lok Prabhat
Registration No & City: 127/1992-93, Nawada
Address:Lok Prabhat At- Postmartam Road Dist Po- Nawada Pin- 805110
Cause:Agriculture, Children, Education & Literacy, Health & Family Welfare, Panchayati Raj, Right to Information & Advocacy
---
Vikalp Mahila Vikash Sangh
Registration No & City: 609/92-93, Nawada
Address:At-Sherpur More, Warisaliganj, District-Nawada (Bihar)
Cause:Agriculture, Animal Husbandry, Dairying & Fisheries, Art & Culture, Biotechnology, Children
---
Dalit Gramin Vikas Samiti
Registration No & City: 464, Nawada
Address:At-Village-Karmatar, P.O.-Kadhar Kawakol, District-Nawada (Bihar)
Cause:Agriculture, Animal Husbandry, Dairying & Fisheries, Art & Culture, Biotechnology, Children
---
Vikas Doot
Registration No & City: 271, Nawada
Address:Village Barail P.O – Mahanandpur P.S Block- Akberpur Dist- Nawada-805110
Cause:Any Other
---
Maa Vaishnav Health Eduaction & Development Foundation
Registration No & City: 161/2010-2011, Nawada
Address:Vill-Valipur,P.S-,Narhat,Dist-Nawada,Bihar
---
Dalit Sangam Samiti
Registration No & City: 1092/2010-11, Nawada
Address:Vill.-Anti, Post-Kadirganj, P.S. Dist.-Nawada (Bihar)
Cause:Agriculture, Animal Husbandry, Dairying & Fisheries, Art & Culture, Biotechnology, Children
---
Yog Shakti Sadhna Kendra
Registration No & City: 602/2002-2003, Nawada
Address:Vpo- Kochgawn, Via-Warisalegang, Distt.- Nawada, Bihar-805130
Cause:Agriculture, Animal Husbandry, Dairying & Fisheries, Art & Culture, Children, Dalit Upliftment
---
Gram Nirman Mandal
Registration No & City: 15, Nawada
Address:Gram Nirman Mandal Sarvodaya Ashram Sokhodeora Nawada Bihar Pin No 805106
Cause:Animal Husbandry, Dairying & Fisheries, Agriculture, Children, Civic Issues, Disaster Management
---
Network For Integrated And Reformative Action In Nawada Foundation
Registration No & City: U85110Br2017Npl035240, Nawada
Address:Patel Nagar, Nawada, Bihar, Nawada
Cause:Differently Abled, Education & Literacy, Health & Family Welfare, Rural Development & Poverty Alleviation, Women's Development & Empowerment, Youth Affairs
---
Sarvhara Sewa Sansthan
Registration No & City: 1377, Ara
Address:Jagdeo Nagar Jagdeo Path Gali No-2, Po Aniath, Ps Nawada
---
Sagar Gramin Mahila Vikas Samiti
Registration No & City: 1121, Nawada
Address:At Po-Itpakwa,Block-Kawakol,District-Nawada,Pin Code-805106
Cause:Art & Culture, Children, Education & Literacy, Environment & Forests, Health & Family Welfare
---
Prayogshala
Registration No & City: 835, Nawada
Address:Ward No. 07, Villagemadhepur,Popskashichak, Districtnawada Pin805130 (Biahr)
Cause:Agriculture, Animal Husbandry, Dairying & Fisheries, Art & Culture, Children, Civic Issues
---
Bihar Sewa Sansthan
Registration No & City: 508, Nawada
Address:At Buddhol, Sewa Nagar , Po Gonawan ,Ps Nawada Sadar
Cause:Agriculture, Dalit Upliftment, Labour & Employment, Micro Finance (SHGs), Rural Development & Poverty Alleviation, Tribal Affairs
---
Akshaywat Seva Sansthan
Registration No & City: 501/2000-2001, Nawada
Address:Bhikhampurp O Rupow District Nawada Bihar 805107
Cause:Animal Husbandry, Dairying & Fisheries, Children, Civic Issues
---
Peoples Action For Development
Registration No & City: 1189/2003-04, Nawada
Address:At Vishnupurimiyan Bigha P O Kahuara District Nawadabihar Pin 805 109
Cause:Art & Culture, Children, Disaster Management, Health & Family Welfare, Human Rights, Information & Communication Technology
---
Bihar Eraqui Millat Committee Ansar Nagar Nawada
Registration No & City: 201/ 1982-83, Nawada
Address:Bihar Eraqui Millat Committee, Ansar Nagar Nawada P.O- Nawada- 805110
Cause:Education & Literacy
---
Saharsh Sewa Sah Shodh Sansthan
Registration No & City: 257 (2006-2007), Siwan
Address:Vill.- Nawadamore P.O.+P.S.- Raghunathpur Dist.- Siwan State – Bihar
Cause:Animal Husbandry, Dairying & Fisheries, Aged/Elderly, Agriculture, Art & Culture, Biotechnology
---
Gram Prahari Nawada
Registration No & City: 3240/2011-12, Nawada
Address:Devi Asthan, Uttar Bazar, Koyari Tola, Varisaliganj, P.O. P.S.-Warisaliganj, Distt.-Nawada (Bihar).-805130
Cause:Agriculture, Animal Husbandry, Dairying & Fisheries, Art & Culture, Biotechnology, Children
---
Dayal Educational Organisation And Social Welfare Trust
Registration No & City: 14/29-05-2008, Nawada
Address:Par Nawada Mohallamadhubanbara P.O. Nawada Dist. Nawada Bihar
Cause:Agriculture, Animal Husbandry, Dairying & Fisheries, Education & Literacy, Food Processing, Labour & Employment
---
Bimbisar Health Education And Help Foundation
Registration No & City: U85300Br2019Npl043457, Nawada
Address:Vill-Dhaniyawan, Tola-Dhaniyawan , Panch-Pes,Block, Nardiganj, Nawada, Bihar, India, 805109
Cause:Civic Issues, Drinking Water, Education & Literacy, Aged/Elderly, Health & Family Welfare, HIV/AIDS
---
Mahila Udyog Kendra
Registration No & City: 208, Nawada
Address:Prameshwer Bhawan Moh:- Mirzapur Line Par
Cause:Agriculture, Animal Husbandry, Dairying & Fisheries, Art & Culture, Children, Civic Issues
---
Gram Jgat
Registration No & City: 1364, Nawada
Address:Main Road Warisali Ganjnawada
Cause:Children, Dalit Upliftment, Disaster Management, Education & Literacy, Health & Family Welfare, Human Rights
---
Neha Gramin Mahila Vikas Samiti Nawada
Registration No & City: 1001/1999-2000, Nawada
Address:Neha Gramin Mahila Vikas Samiti, Gonawa, Nawada-805110
Cause:Agriculture, Art & Culture, Children, Dalit Upliftment, Drinking Water, Education & Literacy
---
Nav Chetna Vikas Kendra
Registration No & City: 216/1994-95, Nawada
Address:At Vill- Anti , Post- Kadirganj, Dist.- Nawada
Cause:Dalit Upliftment
---
Jawal Prasad Singh Welfare Trust
Registration No & City: 12259/2010, Warisaliganj
Address:C/O Raj Kumar Singh, Main Road, Warisaliganj, Nawada, Bihar 805130
Cause:Education & Literacy, Information & Communication Technology
---
Serve Seva Samiti Sah Chetna Mahila Mandal
Registration No & City: 1023, Nawada
Address:At-Badi Dargah Sharif Colonoy Ward No-26 Par Nawada
Cause:Agriculture, Children, Differently Abled, Education & Literacy, Rural Development & Poverty Alleviation, Women's Development & Empowerment
---
Mahila Shilpkala Silai Buni Kasidak Ari Aum Gudia Prashishan Kendra
Registration No & City: 105, Pakribarawan
Address:Mahila Shilp Kala Silai Buni Kasidakadi Aum Gudia Prashishan Kendra Vill Po Pakribarawan Dist- Nawada Pin – 805124 Bihar
Cause:Children, Dalit Upliftment, Drinking Water, Education & Literacy, Health & Family Welfare, Micro Finance (SHGs)
---
Youth Development Forum
Registration No & City: 1292, Nawada
Address:At- Purani Kachahari Road Nawada, Near Gandhi Inter School
Cause:Education & Literacy, Human Rights, Information & Communication Technology, Legal Awareness & Aid, Micro Finance (SHGs), Rural Development & Poverty Alleviation
---
Yuva Kalyan Kendra
Registration No & City: 22/83-84, Nardiganj
Address:At P.O.- Nardiganj, Nawada
---
Tara Seva Kendra
Registration No & City: 1583/2003-04, Patna
Address:Village-Kunda, Post- Kunda-Bhalua, Distt. Nawada 805109
---
Janhit Vikas Samiti
Registration No & City: 473, Nawada
Address:At- Professor Colony, Linepaar, Mirzapur,District Nawada, Bihar- 805110
Cause:Animal Husbandry, Dairying & Fisheries, Aged/Elderly, Agriculture, Art & Culture, Biotechnology
---
Nav Nirman Mahila Jan Kalyan Sangathan
Registration No & City: 494/2014-2015, Narhat
Address:Regdoffice,- Baniya Bigha, P.O-Narhat,Dist- Nawada (Bihar) 805122
Cause:Education & Literacy
---
Manav Jati Bandhan Mukti Marg Darshak Sangh
Registration No & City: S000384, Nawada
Address:Vill- Ehorahi Po-Koshi Ps- Roh Dist- Nawada
Cause:Dalit Upliftment, Education & Literacy, Environment & Forests, Legal Awareness & Aid
---
Ram Gauri Sewa Sansthan
Registration No & City: 349, Nawada
Address:Ram Gauri Sewa Sansthan Vill- Loharpura Po- Sadipur Via- Kadirganj Dist- Nawada (Bihar) Pin- 805104
Cause:Animal Husbandry, Dairying & Fisheries, Aged/Elderly, Agriculture, Art & Culture, Biotechnology
---
Manav Pragati Sansthan9199844094
Registration No & City: 828, Nawada
Address:Vill-Kendua P.O-Baksanda Dist-Nawada
Cause:Rural Development & Poverty Alleviation
---
Alpsankhyak Kalyan Sansthan Nawada
Registration No & City: 474, Nawada
Address:Mohallamoglakhar P.Onawada P.S-Nawadadist- Nawada- 805110
Cause:Legal Awareness & Aid
---
Nayee Parakh
Registration No & City: 1040, Nawada
Address:Rajendra Nagar, New Area Nawada P.Onawada Dist- Nawada
Cause:Children, Education & Literacy, Women's Development & Empowerment
---
Pratap Seva Sansthan Mahila Mandal
Registration No & City: S000307, Ara
Address:Vishnu Nagar Bank Colony Anaith Nawadaara
---
Atyuttam Adarsh Educational And Welfare Society
Registration No & City: 883, Nawada
Address:Randhir Kumar Building No. 38, Vill-Bhadour, Po-Sabhari, Dist-Nawada, Bihar (India)-805123
Cause:Vocational Training, Education & Literacy, Aged/Elderly, Women's Development & Empowerment
---